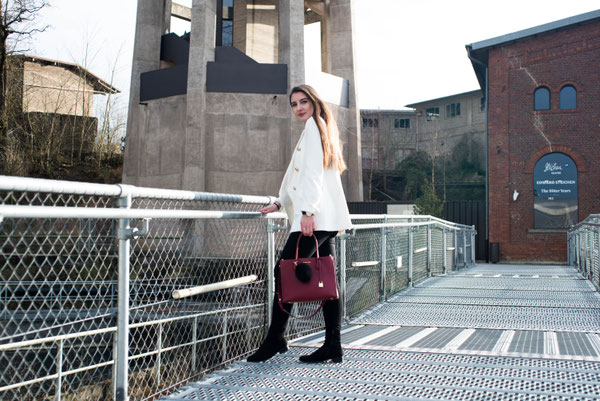 I am so excited to share a new blogpost with you all! The past few weeks I just spent relaxing and "recovering" from the stressful exam period. It felt so good to be back in Luxembourg and just do nothing! The only "annoying" thing is the weather as it got extremely cold here. I mean, it was incredibly beautiful because the sun was shining every single day but it was freezing. So most of the days I spend on the couch in the living room by the fireplace reading a book. Lately I am into the thought catalog books. They also have some pretty good short articles just about life, thoughts and everything on your mind, so it is definitely worth to check them out. I could ramble about them all day long because I love scrolling though their articles!
But yesterday it got a little bit warmer so I immediately wanted to shoot a new outfit for my blog (a quick shoutout to mov_mnt for being an awesome photographer). I got the River Island blazer recently from the Asos website and I just love it. I needed a nice and chic white blazer and the gold buttons just perfectly fit the blazer and give it s smart look. I like how you can dress it up or down or rather dress an outfit up with it. The simple lace top looks so much better with the dressy blazer. It also reminds me of the Balmain blazers which are stunning but a little too expensive for a student like me.
I paired the top and the blazer with my black jeans, black over knees and my burgundy Michael Kors bag which gives the look a pop of color and ties everything together.
blazer - River Island
lace top - Only
jeans - Zara
over knees - Asos
bag - Michael Kors
necklace - H&M
watch -  Daniel Wellington
bracelet - Michael Kors
rings - H&M