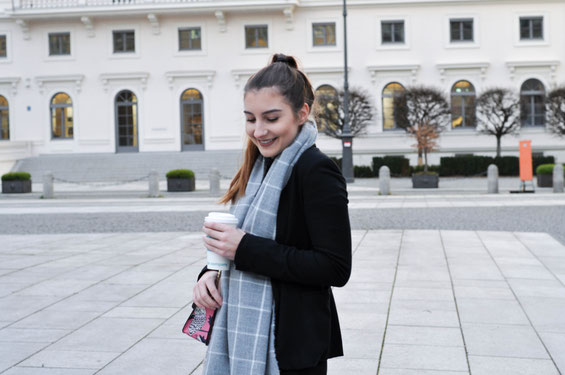 Oh hi there!
How are you? I actually really wanted to start my regular blogging routine again over the summer, as I mentioned in my previous blog post. But somehow I got caught up in life.
In July I traveled back an forth between Luxembourg and Munich: in the beginning I had to write some admission tests for some universities there. I applied to four universities in the city, some of them required the test. Then, I visited my sister in Innsbruck (she is studying there) and we ended up in Munich again, participating at the Wanderlust festival. Then in August, I needed to go apartment hunting as I got accepted at my favorite university in Munich. I was very lucky and found the flat of my dreams- it has a perfect location, a good size for me living there alone and is reasonably priced. 
In between, my family and I went to Ireland for 9 days to drive through the country and learn more about the Irish culture. The country is truly beautiful with its wide nature fields, hills and mountains, and old castles. If you guys want, I can put our route up here- if you are thinking about traveling to Ireland and need some inspiration. 
Furthermore, in September we spend two weeks in Spain, which we do every year- it's our beach vacation and just a break from everything. The only thing we are doing during these two weeks is lay on the beach, eat and enjoy life.
After coming home from the beach, I needed to pack again because I moved to Munich. The university classes started in October and I just enjoyed the time here and meeting new people! That is kind of what I did for the past few months, and now in the beginning of January I also celebrated my birthday. These are kind of the reasons why I didn't post anything on here, however I was pretty busy on Instagram, if you want to follow me there. I want everything I post on my blog to be well thought-out and have a high quality. 
 So I thought, why not show you the bag I bought myself for my birthday. It is a Furla Metropolis bag but it has a rather unusual pattern. And it is pink- which is unusual for me, as I usually run away from everything in that specific color. 
It has golden details and the moment I first saw it, I just knew I needed it in my life (pretty dramatic as we are only talking about a bag, I know). So following I inserted some pictures of the bag and the simple outfit I wore with it. As the Furla is already pretty colorful I didn't want to wear too many other colors and patterns with it.