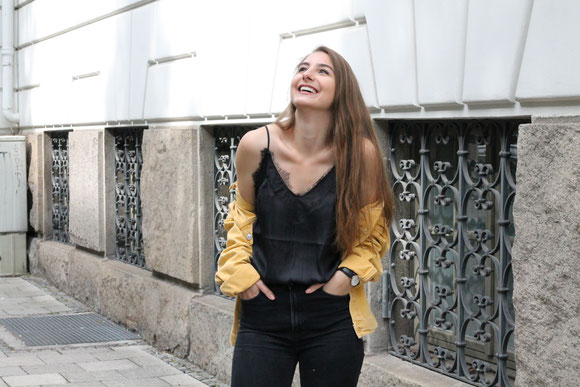 "live life in warm yellows"
Welcome back to my blog, lovely people. I feel like I've posted more content in the last few months than in 2016/2017 (even if I just posted a total of 3 blog posts). But I updated the "aupair" section a little bit, if you are interested and want to have a read there. With the start of university and living on my own, I feel much more inspired and positive. I also notice that I do a lot more and am more sociable. I just really enjoy Munich and everytime I am walking outside I feel so lucky to be living in my favorite city!
I found this yellow jeans jacket in a Zara store in Prague in May and I just bought it because we were in the city center and I didn't bring any jacket with me- and I was cold obviously. It soon became one of my most worn pieces because I love the color so much! My family and I visited Prague for the first time then and I have to say, I am so surprised about how beautiful it is. If you want me to write about the trips that I did this year, please let me know!
I love the combination of the cool, easy-going jacket and the more classy and stylish top and the mix of both styles. Paring it with the more casual black boots, it makes an easy everyday outfit (that I actually wore quite often) during spring / summer. And I can even wear it now in fall because of it's lovely color.
jacket - zara
jeans - zara
boots - forever21
lace top - h&m
watch - daniel wellington